WATCHCAM Vehicle Analytics Solution
General CCTV/IP cameras are not smart enough to detect & recognize persons & objects therefore unable to notify on undesirable incidents. WATCHCAM combines Deep Learning & Video Analytics to automate surveillance in the field of public safety along with home and enterprise security by identifying Faces, Vehicles, License Plates & other Objects of interest to get instant notifications of events of interests. No need to add expensive smart cameras, just add our iNVR Systems to your existing IP cameras to make them smart, instantly !
FEATURES
Receive video from multiple video sources including:

General IP cameras
RTSP streams

Advanced Vehicle and LPR service includes:

Parking management through vehicle classification and License Plate Recognition.
Live notification on VIP/blacklisted Vehicle arrival
Restful APIs to link with Third party systems
Intelligent Traffic Management

Standalone attendance taking system including:

Investigation Report
Vehicle Attendance Report
Multiple Video Sources
Support a wide range of industry standard video sources, including RTSP Camera Stream, NVR, or CMS using ONVIF Profile S/G/T
Secure User management
Supports multiple system groups and user roles.
Supports single device login connection.
Live Notification and Alerts
Real-time Notification via email/app/alert whenever vehicle has been identified.
Notification App available for iOS and Android devices.
Vehicle Analytics Plugin
Enroll different vehicles using a web portal or through a mobile app.
Assign each vehicle into one or more groups for easier identification (i.e. VIP, Blacklist, visitor, supplier, distributors etc.)
Flexible Design & Configuration
Highly configurable license plate capture size with minimum size.
Configurable recognition threshold and License Plate capture technology.
Recognize License Plate from any position of the vehicle.
Reliable on Different Environment
Recognize License Plate within 3.5 meters camera height mounting location.
Accurate down to 35 LUX ambient light condition.
Supports Video feeds in Color & Monochrome mode
Comprehensive Reports
Detailed reports for recognized and unknown number plate.
Daily/weekly/monthly/yearly attendance reports with vehicle Entry/Exit records.
Export results to Excel & HTML format for further analysis
In-Depth Integration Capabilities
Integrate with a wide variety of application scenarios ranging from: welcome signage to boom-barrier License Plate authentication to validate vehicle's License Plate.
Integrate with Vehicle tracking System to identify and track (Different classes of Vehicle, Blacklisted, Whitelisted etc.).
RESTful API available
SPECIFICATIONS
| | |
| --- | --- |
| Object Detection | Vehicles, License Plates |
| Vehicle Classification | Bus, Truck, Pickup, Sedan Car, Micro Bus, Motorcycle, CNG Auto rickshaw etc |
| Vehicle Motion Profiling | Entry/Exit Count, Overcrowding, Motion Direction |
| License Recognition Language | Bangla / English |
| License Plate Color | White / Green |
| License Recognition Accuracy | ~ 98% |
| License Recognition Modes | 1:N |
| Recognition Conditions | Day/Night, +/- 30 degree skew (Vertical/Horizontal) |
| License ID enrollment | Runtime or API Connectivity |
| Log Evidences | Cropped Images of Vehicles correlated with their License plate including Timestamp and Plate Number in Text Format, Short Video Clips of Each Triggered Events |
| Whitelist/Blacklist | Supported |
| Vehicle Color Profiling | 12 type colors (Optional) |
| Perimeter selection | Graphical, Smart filtering, Uneven lines and boxes supported |
| Enrollment | Runtime, DB Connectivity, API Integrated |
| Smart Record | Event and Evidence based Video Clips |
| Notification Method | Alarm, E-mail, Dashboard, Push Notification on App |
| Camera Compatibility | ONVIF Profile S/G/T |
| Reporting | Daily/Monthly/Time separated exportable log |
| API Support | REST API (JSON)/ MQTT Broker Connection |
| Camera Abnormality Detection | Video Loss /Tempering/Scene Change Detection |
| Log Search Filter Methods | Time and Date, License Plate number, Camera number and location |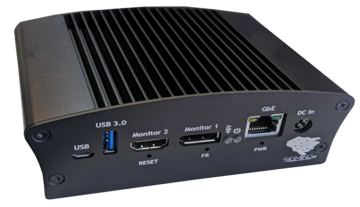 LITE
GPU: 128-core Maxwell 0.5 TFLOPS(FP 16)
CPU: 4-core ARM A57
RAM: 4 GB 64-bit LPDDR4 25.6 GB/s
Display: HDMI 2.0,eDP 1.2a Multiscreen Display 1/4/8/16
Storage: Built-in 256GB NVMe SSD, Optional USB to SATA HDD Bay attachable
Auxiliary Interface: 1x USB 3.0 port, 4x CSI Ports
Network: Interface 1 RJ-45 Port 10/100/1000 Mbps
Number of Cameras: 4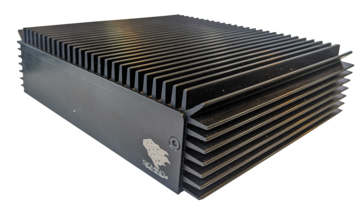 PRO
GPU: 384-core Volta 21 TOPS(INT 8)
CPU: 6-core Carmel ARM CPU(3x) 2 MB L2 + 4 MB L3
RAM: 8 GB 128-bit LPDDR4x 51.2 GB/s
Display: 2x HDMI 2.0 Multiscreen Display 1/4/8/16
Storage: Built-in 512GB NVMe SSD, Optional USB to SATA HDD Bay attachable
Auxiliary Interface: 1x USB 3.0 port, 4x CSI Ports
Network: Interface 1 RJ-45 Port 10/100/1000 Mbps
Number of Cameras: 8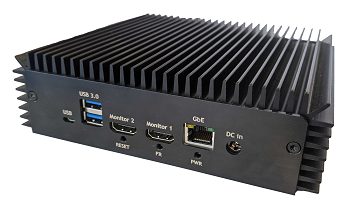 ULTIMATE
GPU: 512-core Volta + NVDLA 10 TFLOPS(FP16) 32TOPS(INT 8)
CPU: 8-core Carmel ARM CPU(4x) 2 MB L2 + 4 MB L3
RAM: 16 GB 256-bit LPDDR4x 137 GB/s
Display: 2x HDMI 2.0 Multiscreen Display 1/4/8/16
Storage: Built-in 1TB NVMe SSD, Optional USB to SATA HDD Bay attachable
Auxiliary Interface: 2x USB 3.0 ports, 4x CSI Ports
Network: Interface 1 RJ-45 Port 10/100/1000 Mbps
Number of Cameras: 16
Performance and Accuracy Guaranteed
Get a free 7 days trial on your premise with single camera or purchase for 4 to 16 camera channels